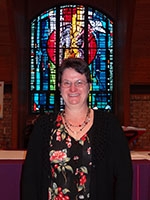 St. Joseph's Day Care has been a ministry of the church since 1993. It is a non-profit, Christian centered program, stressing the development of the whole child.  We believe parents and teachers are partners in your child's care and education.  In 2014 I became the Director of St. Joes.  As a previous childhood member of Hill Church, it has been a privilege to serve the church, the children and the community.
A graduate of West Chester University, with additional E.C.E. graduate credits from Arcadia University, I have 30 years' experience in the Early Childhood field of education.
I am a parent (of two sons), a teacher and a leader of an incredible staff.  In following the mission of the center; "I desire to partner with families in our community".  Click on our Pre-School tab, call me or stop in and visit. I look forward to meeting you!