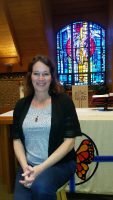 My name is Jill Savory.  I'm a mother of three children and delighted to be the church secretary serving St. Joseph's Hill Church.  I worked 14 years at Prudential Insurance Company, and left that job to raise my children.  When my youngest was entering into school, my husband and I opened our own real estate company.  I remained approximately 10 years in the real estate business.
Several years ago, I made a decision to switch professions.  Upon my spiritual awakening, I searched for a job that was a good fit for me spiritually.  I prayed for the job that would suit me best.  Three days after that prayer, I spoke to St. Joseph's Hill Church.  Within a few weeks and several interviews, I was hired.
As your church secretary, I welcome you to contact me with any questions or contact me about what we do here, when we do it, and why you are so important to us.  It is my privilege to be of service to you.